Annie and Billie's Web Page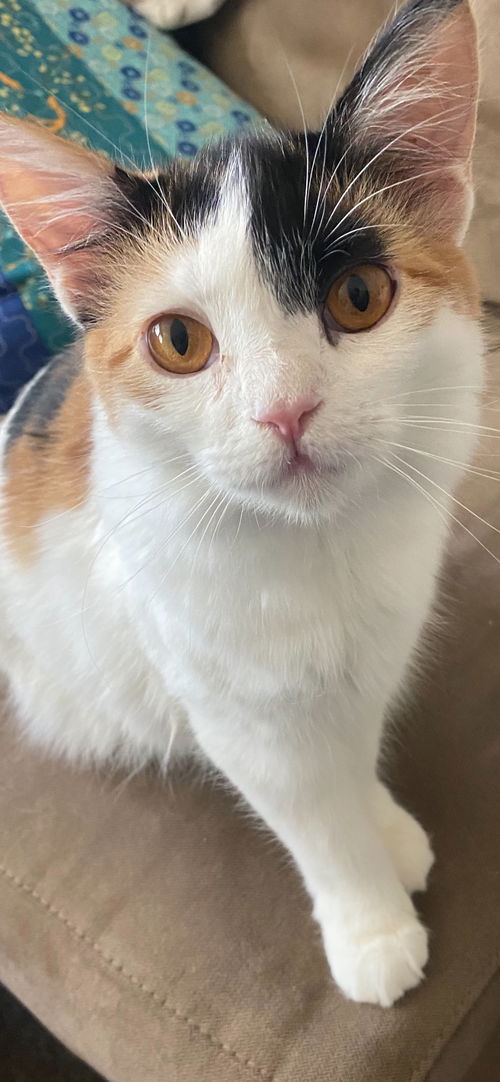 I would love you more than you can imagine.
Please adopt me!
Name: Annie and Billie
Species: Cat
Breed: Calico / Domestic Medium Hair / Mixed (medium coat)
Color: White orange and black
Sex: Female (spayed)
Current Age: 1 Year 1 Month (best estimate)
Activity Level: Moderately Active
Indoor or Outdoor: Indoor Only
Good with Cats: Yes
Declawed: No
Housetrained: Yes
Description:
Siblings Annie and Billie have calm, quiet, sweet natures. They will play hard, take a good run, and then settle down for a nap in the sun. Both love to explore and are always interested in what you are doing. They love each other and they will love you!

Unfortunately Annie started having seizures last August. Her seizures were managed well with medication and it didn't stop her from running around her foster home. She has been seeing a neurologist at SAGE RWC and it was determined that this was likely a congenital disorder. But she has now been weaned off the medication and is no longer having seizures! she is doing great now and we do not expect the seizures to return. She is a gorgeous kitty and so is her brother Billie. They have been waiting many months to find the right home and we are not giving up until we find it for these deserving cats.
All of our kitties are spayed/neutered, fully vaccinated, dewormed, deflead and microchipped prior to being delivered to their loving forever home.
Most of our
kittens are only available for adoption in pairs
as it is our policy not to place kittens under six months of age in a forever home without another kitten. We also do not place kittens older than six months into homes where there is currently not another young cat. Most of our kittens are in "bonded pairs" or bonded with their littermates. We reserve the right not to separate bonded pairs or place kittens individually. The happiness and quality of life for our kittens is our top priority. =^..^=
Video of Annie and Billie:

Other Pictures of Annie and Billie (click to see larger version):

106.4k

63.3k

69.5k

925.9k