Louie's Web Page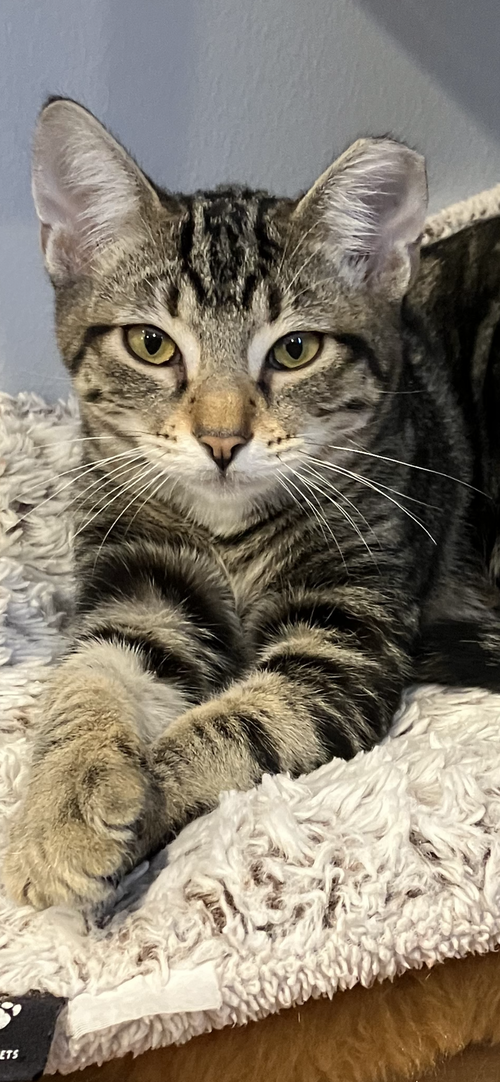 Interested in adopting?
Name: Louie
Species: Cat
Breed: Tabby / Domestic Short Hair / Mixed (short coat)
Color: Brown Tabby
Pattern: Tabby
Sex: Male (neutered)
Current Age: 5 Months 24 Days (best estimate)
Activity Level: Moderately Active
Indoor or Outdoor: Indoor Only
Good with Cats: Yes
Declawed: No
Housetrained: Yes
Description:
For the perfect companionship, Louie needs to be adopted alongside his closely bonded sibling, Sophia. Louie is a laid-back and mellow feline who relishes in the company of his sister. He enjoys leisurely activities such as bird-watching from the expansive window overlooking the backyard, scaling the kitty condo, and playfully pursuing his toys. This charming love bug is highly affectionate and readily begins to purr when you offer a gentle pat on the head or a scratch behind the ear.
During the evening hours, Louie and his beloved sibling, Sophia, find comfort in snuggling together before peacefully drifting off to sleep.
If you're interested in welcoming Louie and Sophia into your life, please take a moment to complete an online adoption application or reach out to us via email at info@ibokrescue.org.
All of our kitties are spayed/neutered, up to date on their vaccinations, dewormed, deflead and microchipped prior to being delivered to their loving forever home.

Most of our kittens are only available for adoption in pairs as it is our policy not to place kittens under six months of age in a forever home without another same aged kitten. We also do not place kittens older than six months into homes where there is currently not another young cat in residence. Most of our kittens are in "bonded pairs" or bonded with their littermates. We reserve the right not to separate bonded pairs or place kittens individually. The happiness and quality of life for our kittens is our top priority. =^..^=
Videos of Louie:


Other Pictures of Louie (click to see larger version):